Additional Fishing Packages
Fly Fishing Inshore & Backwater
4 Hour Trip $550
6 Hour Trip $750
8 Hour Trip $950
Limit 1-2 people.
Nearshore Fly Fishing
Fishing for Cobia, Amberjack's, Spanish Mackerel, Bonita and more.
4 Hour Trip $700
6 Hour Trip $900
8 Hour Trip $1,100
Based on 1-2 people. Can carry up to 4 people. $50 each additional person after initial 2. 
Marsh Hen & Sea Duck Hunts
4 Hour Trip $600
During the season. 2 person max on Marsh hen hunts. 3 person max on Sea Duck hunts. $100 for each additional person.
Sightseeing & Shelling Trips
2 Hour Trip $350
Up to 6 people. $50 dollars each additional hour.
Corporate & Large or Small Group Trips
We have many boats available. Call for a  quote.
Specializing in Family Fun
We offer something for everyone
We can accommodate any level of angler from novice to Tournament Pros – we cater to everyone.
On any trip kids under 12 are not charged the $50 additional fee after 2 people.
Things To Know Before Your Trip
We supply all the fishing gear, equipment, and fishing license along with bait and everything needed to successfully fish with. You can keep legal fish.
WE DO NOT CLEAN FISH
We can give you the name of a market in town that will clean your catch.
And please don't forget – if you enjoy your trip, don't forget to tip!
Things To Bring On Your Trip
A good, positive attitude is a must! Appropriate clothes for any conditions. Sometimes it does rain during the summer months so you may want to bring rain gear, hat, sunglasses, and non-aerosol sunscreen. Also, any food and drinks to keep you happy.
We do use crabs and shrimp for bait and there may be residue scattered throughout the boat so if you are extremely allergic to shellfish then it may be best to let us know before booking.
I can also help arrange the very best fishing and hunting trips from the Florida Keys to New Jersey for some of the finest fishing offered on the east coast. I also have information regarding the finest hunting and fishing outfitters throughout New Mexico, Colorado, Wyoming and all through the Rockies and the Northwest.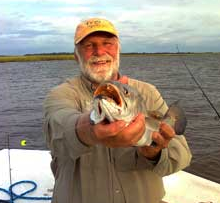 Contact Me To Book Your Next Adventure
Call 843-546-3543 or email us for a quote!
Georgetown Coastal Adventures is one of the oldest and most accomplished charter services along the South Carolina coast. Captain Tommy (former Redfish, King Mackerel, Marlin tournament competitor) is well-versed in catching anything that swims and will ensure that you have a day full of excitement and laughter! Captain Tommy is c
onsidered by many to be an old fashioned southern character.
Along with his brother Captain Dan
and his other well seasoned professional Captain's, you can't go wrong when booking with GCA.
• Humminbird – MinnKota – Cannon Downriggers – AFCO – Talon Shallow Water Anchors • 
• Cape Romain Marine •
• Tidewater Boats •
• Yamaha •
• Pure Fishing – Penn – ABU – UGLY STICK •
• Berkeley and all their great lineup of products •
• Mauri  – Custom made Glass Fly Rod's •
• TFO – Rods – Fly Rod's & Reels •
• KTS Custom Lures & Jig's •
• Smith Sunglasses •